Dr. Jamie Yee
Dr. Jamie Yee graduated with a bachelor's degree in biology from the University of Texas at Austin. Upon completion of her undergraduate studies, she moved to Houston to complete her doctorate at the University of Houston college of optometry and graduated in 2011. Her last year In Optometry school she interned at the Albuquerque VA hospital and the clinic at Northeastern state university in Oklahoma. Dr. Yee is trained in the treatment and detection of dry eye, geriatric care, diabetic retinopathy, macular degeneration and is a certified glaucoma specialist. Upon completion of optometry school, Dr. Yee moved to Dallas and fell in love with the area. Her passion for Frisco, helped her build a practice focused on the fashions seen in North Dallas. Merging travel with style became her main inspiration. Avant-Garde Optometry is dedicated to bringing global style local. She continues to grow her practice with positive vibes and a knowledgeable staff. Dr. Yee is active in the Frisco community and is involved with networking and supporting small local businesses. Travel with us, as we explore coast to coast and find inspiration from country to country.
Martha Garza
Chief Operations Officer
Martha was born in Monterrey, Mexico, and grew up in Chicago. She moved to Dallas in 1994 and graduated from Southern Methodist University with a bachelor's degree In advertising and a minor in psychology. Martha has a creative passion for photography, design, and art. She also speaks fluent Spanish and English. She joined the Avant-Garde team in 2015 and was recently promoted to Chief Operations Officer and is excited to bring a creative spark to the practice. Martha's dream trip would be to see the amazing landscapes of Ireland. Her favorite place she has traveled Is Amsterdam and loved the historic buildings and rich heritage.
Kelsey Webb
Optician and Medical Technician
Kelsey was born in Greenville, Texas but grew up in Northwest Arkansas. She moved to Dallas 2 years ago in search of new career opportunities. Kelsey was very drawn to the fashion industry. She is an amazing organizer and is excited to contribute her talents to Avant-Garde. Kelsey is new to travel and has many places on her bucket list. Her dream trip would be to backpack through India or tour castles in Scotland.
Sanaz Naghian
Optician
Sanaz was born in Tehran, Iran and immigrated to Dallas in 2016. She lives in Frisco, Texas with her family and enjoys taking walks and helping her family in any way. She is diligent about keeping her family and close friends happy and comfortable in their new home. She graduated from Collin College in 2020 and passed her ABO test as a certified optician in 2021. She enjoys helping people improve their vision and deeply cares about patient satisfaction. Sanaz also enjoys travelling the world and has loved the Netherlands, Germany and France the most.
Nadia Taefi
Optician
Nadia was born in Gorgan, Iran and immigrated to Frisco, Texas in 2016. She is currently not only a full time optician at Avant-Garde but she is also attending the University of Texas in Dallas to pursue her bachelor's degree in computer science. Nadia has a great passion for photography and fashion and fell in love with styling patients in eyewear. Nadia also loves to travel and her favorite country was Turkey. She was inspired by the culture, architecture and admired the unique dishes they are famous for.
Sierra Ball
Part-time Medical Technician.
Sierra is currently going to SMU to pursue to bachelors degree In psychology. Sierra loves growing professionally with Avant-Garde and enjoys learning about new fashion trends.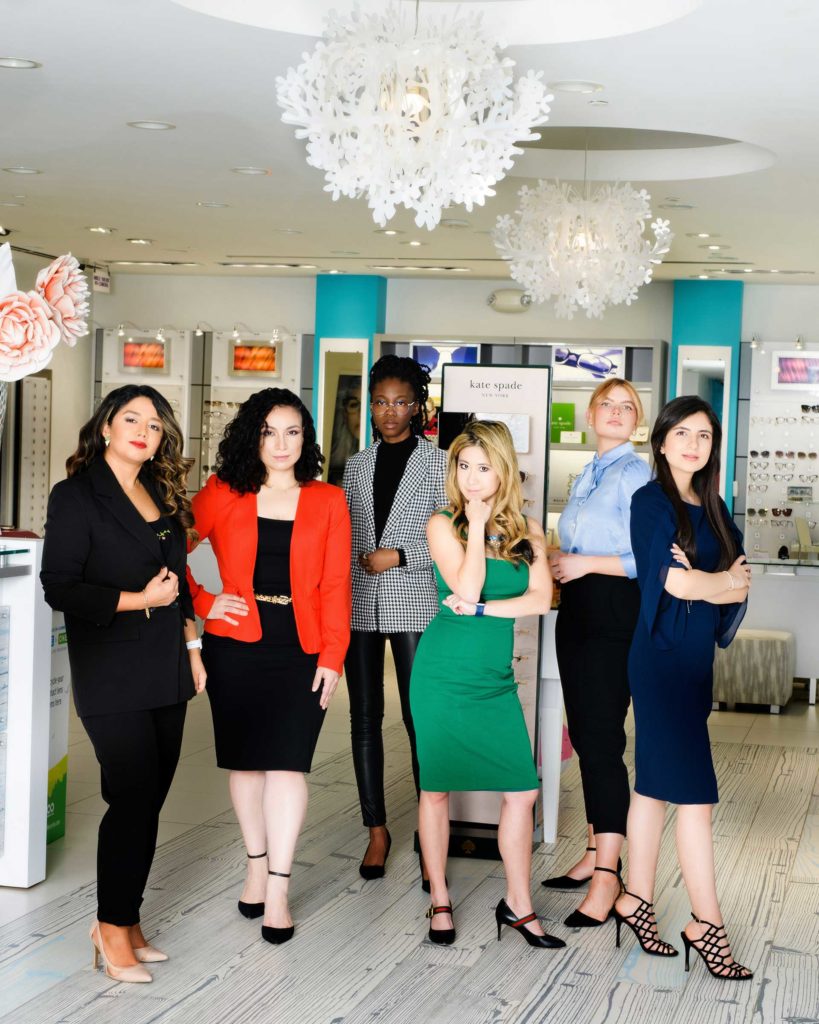 Ready To See Beyond The Clouds?
Optometry services and much more
speak to an Avant-Garde associate today.