Dr. Jamie Yee
Dr. Jamie Yee graduated with a bachelor's degree in biology from the University of Texas at Austin. Upon completion of her undergraduate studies, she moved to Houston to complete her doctorate at the University of Houston college of optometry and graduated in 2011. Her last year In Optometry school she interned at the Albuquerque VA hospital and the clinic at Northeastern state university in Oklahoma. Dr. Yee is trained in the treatment and detection of dry eye, geriatric care, diabetic retinopathy, macular degeneration and is a certified glaucoma specialist. Upon completion of optometry school, Dr. Yee moved to Dallas and fell in love with the area. Her passion for Frisco, helped her build a practice focused on the fashions seen in North Dallas. Merging travel with style became her main inspiration. Avant-Garde Optometry is dedicated to bringing global style local. She continues to grow her practice with positive vibes and a knowledgeable staff. Dr. Yee is active in the Frisco community and is involved with networking and supporting small local businesses. Travel with us, as we explore coast to coast and find inspiration from country to country.
Dr. Joseph Vu
Associate Doctor
Dr. Joseph Vu studied Pre-Med at Southern Methodist University for several years before pursuing a career in Optometry. He later attended the University of the Incarnate Ward Rosenberg school of Optometry. His last year, he interned at the Community eye clinic in Fort Worth and the Amarillo VA Hospital. After graduating, Dr. Vu moved to Houston and worked at corporate and private practices. He has a true passion for diabetic eye care management and specialized corneal diseases. Dr. Vu previously owned and managed Provectus Family Eyecare in Fort Worth. Though he loved his patients in Fort Worth, he decided to instead practice in Frisco and North Dallas. Our patients in Frisco took an instant liking to Dr Joe Vu and we have loved integrating him into our practice. Dr. Vu is a foodie and loves to try new restaurants and spend time with his family in his time off. He also loves to travel and feels Turkey would be his dream place to visit.
Martha Garza
Chief Operations Officer
Martha was born in Monterrey, Mexico, and grew up in Chicago. She moved to Dallas in 1994 and graduated from Southern Methodist University with a bachelor's degree In advertising and a minor in psychology. Martha has a creative passion for photography, design, and art. She also speaks fluent Spanish and English. She joined the Avant-Garde team in 2015 and was recently promoted to Chief Operations Officer and is excited to bring a creative spark to the practice. Martha's dream trip would be to see the amazing landscapes of Ireland. Her favorite place she has traveled Is Amsterdam and loved the historic buildings and rich heritage.
Kelsey Webb
Optician and Medical Technician
Kelsey was born in Greenville, Texas but grew up in Northwest Arkansas. She moved to Dallas 2 years ago in search of new career opportunities. Kelsey was very drawn to the fashion industry. She is an amazing organizer and is excited to contribute her talents to Avant-Garde. Kelsey is new to travel and has many places on her bucket list. Her dream trip would be to backpack through India or tour castles in Scotland.
Nadia Taefi
Optician
Nadia was born in Gorgan, Iran and immigrated to Frisco, Texas in 2016. She is currently not only a full time optician at Avant-Garde but she is also attending the University of Texas in Dallas to pursue her bachelor's degree in computer science. Nadia has a great passion for photography and fashion and fell in love with styling patients in eyewear. Nadia also loves to travel and her favorite country was Turkey. She was inspired by the culture, architecture and admired the unique dishes they are famous for.
Mahnaz Delkhahi
Optician
Mahnaz was born in Tehran, Iran and emigrated to the United States in 2013. She became interested in tailored professional fashion in the U.S. This then drew her to the optical industry. Mahnaz feels glasses should fit like a well made suit. She worked in boutique opticals in Dallas a few years before she joined our team. Mahnaz is greatly interested in real estate and her journey is just beginning in this specialty. Outside of work she enjoys swimming and traveling. Her favorite travel spot was Hawaii, the main island, because she loves the relaxed beach vibes. Her ideal vacation is seeing the exotic sparsely populated islands of Maldives. She lives with her family in Frisco and has two beautiful daughters.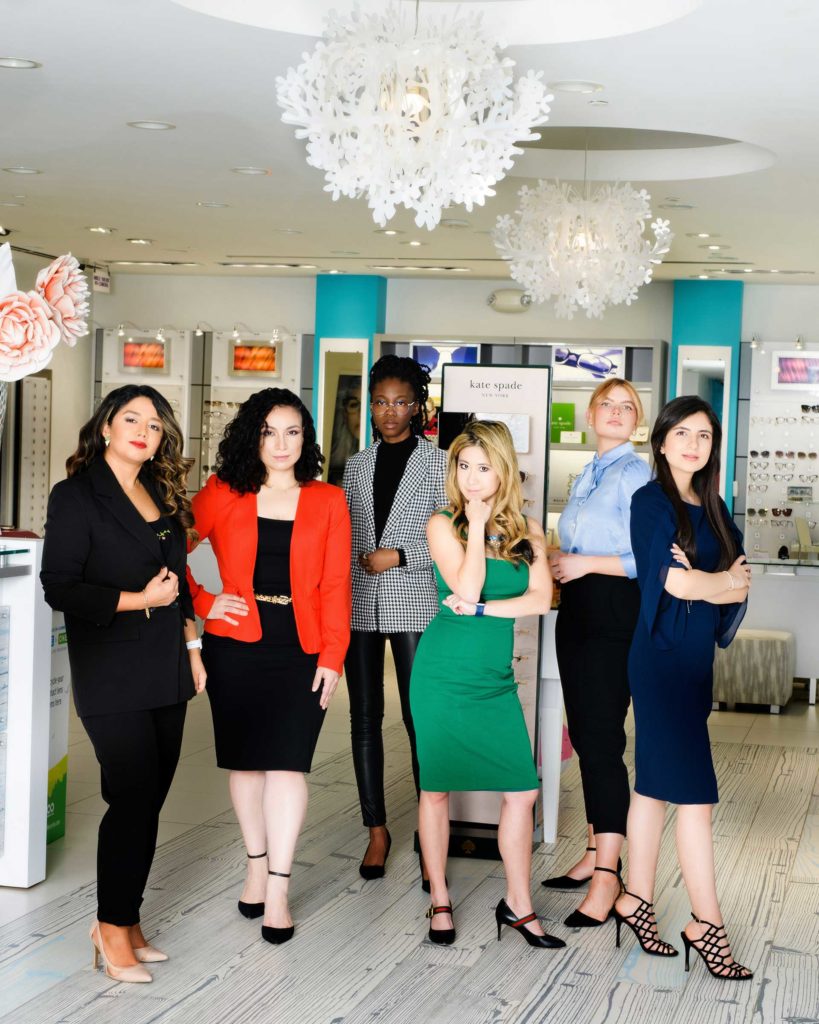 Ready To See Beyond The Clouds?
Optometry services and much more
speak to an Avant-Garde associate today.